It all started with Reds souvenirs and novelties over 30 years ago. We've developed, manufactured, and distributed thousands of authentic and timeless novelty items. Some of these include the "Big Red Machine Era" and many other popular pro, college, and high school sports teams. We have produced countless collector shows and arranged hundreds of athlete signings, both public and private, from Columbus to Louisville. Above all we have always been the leader of all things sports memorabilia.
Unconditional Guarantee Of Authenticity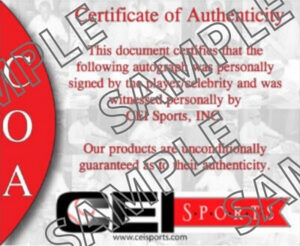 Our products carry an unconditional guarantee of authenticity which has provided maximum value and authentic assurance of our items. Consequently our brand name is well known throughout the collecting community and autograph resale markets. Our prominence as a founding contributor to the Cincinnati Reds Hall of Fame is displayed at the entrance of the Hall. We still contribute valid content to the museum on an ongoing basis. Over half a million autographs have been signed in our presence by hundreds of celebrities and athletes. These autographs are officially witnessed and sold by our company.
A Solid Reputation
Our reputation in the industry for over 30 years has been second to none. We provide quality products, timely service and that extra mile to make it a special experience when dealing with our company. We continue to search the sports photography market for new images and currently own over 50,000 negatives of baseball, football, hockey, golf, wildlife, and Americana.
CEI Sports is the only company that took the initiative to create the official 20 year reunion of the 1976 Cincinnati Reds in November of 1996 at the Cincinnati Convention Center to celebrate and honor their legacy. In fact, this valiant effort by CEI Sports was during a time when the importance of the Reds team history had little to no meaning to the Reds marketing and front office. Over 10,000 loyal fans supported this milestone event. As a result, some Reds employees have said that this was the tipping point that sparked the launch the first Redsfest in 1997!
Similarly, see our Past Projects Page for more about our storied history.
In addition, for more on what we're up to currently follow us on Facebook, Twitter, and instagram.
We guarantee all our products to be 100% authentic.